DETAIL
Contents Enriched 120 minutes with all you can drink! "Girls Association course" ★ 4000 yen ⇒ 3500 yen! Month - All you can drink in 180 minutes ♪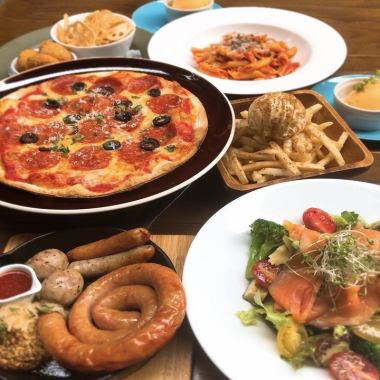 By using a coupon3500 yen
All-you-can-drink available

Last order 30 minutes ago
Girls' Union course only ★ The drinks are all-you-can-eat menu is more fulfilling ★ It is a course you can enjoy today with pizza pasta, sausage platter assortment & drinks all-you-can-eat!
Course menu
■ Tortilla Chips
■ French fries ice cream sauce
■ Beef tongue salad
■ Assorted sausage
■ Today's pizza or pasta
■ dessert
★ Monday - Trees can be drunk as much as 180 minutes!
★ You can also consult about content changes within your budget!
※ Course contents may be changed by purchase
All-you-can-drink menu
·beer
· Draft beer / Shandigafuf / Cassisvia
·Whisky
· High Ball / JANGER High Ball / Cork High Ball
Cocktail [Jin]
· Gin Tonic / Jim Buck
Cocktail [vodka]
· Vodka Tonic / Moscow Mule
· Cocktail 【Liqueur】
· Cassis soda / cassis orange / cassis oolong / peach tree fizz / fuzzy group / peach oolong / campari soda / campari orange / rum coke
·wine
· Glass red / glass white / kitty / Splitzer
·sour
Lemon sour
·Soft drink
· Oolong tea / Orange juice / Ginjaya / Cranberry juice / Coke / Coffee / tea
Coupon that can be used
Contents Enriched 120 minutes with all you can drink!
"Women's Association course" ★ 4000 yen ⇒ 3500 yen!
All-you-can-drink all-you-can-drink ♪

Presentation conditions

At the time of booking

Conditions of use

Other tickets and services other than course vouchers can not be used together / 2 people / reservation required

Expiration date

Until the end of June, 2018
2018/06/13 update